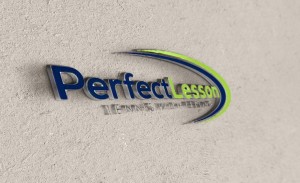 Rory   Spanton
The Journey……and subsequent technical and tactical changes
Many people think a champion suddenly appears on the tennis scene. I doubt if that has ever happened. Everyone great player I know has gone on a journey. Usually from Club Champion to Regional ranking to State ranking to Australian ranking. And then should they be lucky enough to make Junior Wimbledon they will be up against the best 64 juniors in the world.
The public's attention is usually caught when a newish player (to them) suddenly knocks off a batch of seeded players and advances deep into the draw. An example of this was John McEnroe. In his first attempt at Wimbledon he reached the semi finals losing to the eventual winner. John actually had to qualify first, which he did by winning his three qualifying matches.
(Need pic of McEnroe)
From     http://www.biography.com/people/john-mcenroe-9391860
In 1977, a pivotal series of events in McEnroe's career took place after he graduated from high school. That year he travelled to Europe and won the French Juniors Tournament. Initially going for the junior title at Wimbledon as well, he shifted gears and tournaments upon qualifying for the men's competition. The 18-year-old then surprised everyone by becoming the youngest man to reach Wimbledon's semifinals, though he was eliminated by Jimmy Connors. John was 18 years old.
John later became famous for this quote:
"You cannot be serious ?".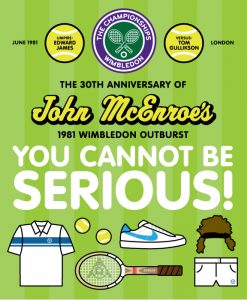 So John did not suddenly appear from nowhere, he was already on his path, his journey.
Rory's path began in March 2015. Perhaps the most outstanding part of that journey has been Rory's perseverance. Over that time he won a couple of Orange Ball events (the lowest level), but immediately struggled once he went up a grade to the Green Ball level. He was playing quite well, and getting close to the semi finals and finals,
BUT always that one or two points away from advancing to the trophy round. To his credit, each new week, Rory was keen to get back on the court and hit more balls. It did take him some time to realize that he had to change his attitude at practice and stop hitting every ball for a winner. Once he realized he had to work hard on his technique the improvement starting building. In the last six months his tennis was getting better and better until the tournament at Innisfail TC where he went all the way and won the 11 and Under boys singles. In the trophy round he beat a boy he had lost to in all previous matches.
Rory's perseverance and improvement at practice culminated in Rory being Champion of the 11 and Under boys in the JDS tournament at Innisfail.
But for you to understand what Rory went through I need to go back to the beginning. I want you to see the changes Rory made in his technique, attitude and tactics.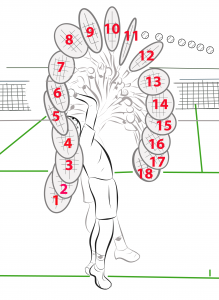 Technique
Changing technique is not easy. Already muscle movement memory patterns would have been well established so that Rory's habits were already locked in.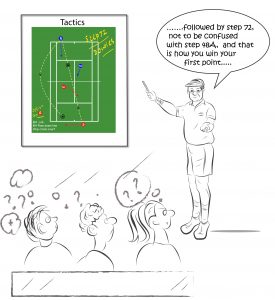 Tactics
Learning about tactics is tough at the best of times.   If you have technique weaknesses (and their habits), it is even more difficult to improve your tactical knowledge and experience.
When Rory first came to me I could see he was a natural athlete, a good hitter of the ball, loved running and had a good match play mind.
I am sure he got his good match play mind from his parents, Mary and Russell.
His first tournaments were in the Orange Ball events of the JDS series of tournaments. For those of you who do not know how it works, in Orange Ball the court is shorter and the ball is very decompressed. That leads to it being more difficult to hit winners (smaller court) and the Orange Ball travels slower, bounces less high and deep and thus the opponent gets more time to play the ball back.
It did not take Rory long to work out that all he had to do was run like a rabbit, make no mistakes, use an average technique and rely heavily on his superior physical assets.
That lead to him winning his first two tournaments. Not bad for a newcomer to the field.
So at that stage I left his technique as it was, thinking it was good for him to have some success and he was still new to the game.
After some months it was decided to move Rory up to the Green Ball events. These are played on a full size court with balls which are only partially decompressed. (Meaning the balls will be livelier than the Orange Balls). This event is getting similar to the tennis most of us know. Rule number one is Consistency. But then the determining factor is who can place the ball better and hit harder without making mistakes. As most of you probably know every tournament has a bunch of hackers, a bunch of road runners as well as some pretty complete players. The hackers and the road runners plan to win by wearing the opponent down and watching the opponent make errors whilst trying to hit winners. Rory was a road runner with only average technique. He would lose to anyone with more control of their strokes. These players usually could also hit the ball harder (because of the topspin) where as Rory had to hit a little softer due to the underspin of his shots.
At this stage Rory had no topspin on his forehand, and under pressure he added more slice. His backhand was weak, only a push stroke so whenever he could he ran around his backhand.  Similar to Steffi Graff running around her backhand so much that her feet were often in the backhand tramlines. Unfortunately his forehand was not as good as her forehand (at that stage of his development).
(Need pic of Steffi)
That helped his immediate match play but did not help improvement on his backhand technique.
At this stage Rory would lose to anyone who could run as much as he could, but had more control and placement of their groundstrokes.
So we had to change his forehand. He had to learn a topspin forehand.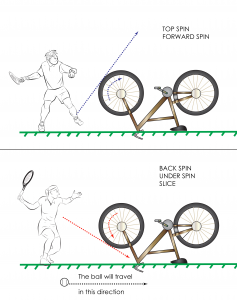 This was not easy as he had already developed the habit of slicing. Several months went by whilst we continued to work on this stroke.
Gradually it got to the stage that Rory had pretty good ownership of the shot.   Under pressure he still wanted to revert to a slice forehand. And at practice he still thought he should hit winners on every forehand.
At the same time we had to work on Rory's serve. His first serve was reasonably strong, but very inconsistent. His second serve was a powder puff. Opponents with a classic forehand would attack it all the time.
The work on the serve continued for about 12 months, including mastering the spinning second serve.
For full understanding: the more spin there is, the harder the player can hit the ball AND still keep the ball in.
About three months ago Rory got a good feel of the spinning second serve and started using it in tournaments. Also his technique on his first serve was getting better, so he was able to build up his percentages of how many first serves were going in.
With the forehand and first serve improving greatly, this then lead to Rory (for the first time) receiving his fair share of short balls. Unfortunately his technique on the volley was very poor so he made many mistakes when he went to net. Initially he was swinging like a baseball batter and hitting most volleys out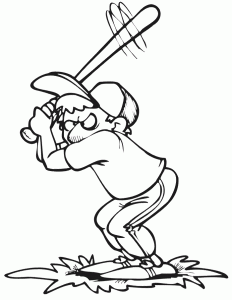 Work continued on his volleys for many months. He now has a shorter swing and hits most volleys in. More work has to be done to make sure he can place the ball, not just hit it in.
As you can see we were dealing with several items and the coach cannot ask the pupil to fix everything at once.
During most of this period Rory's backhand was………simply incorrect. Early on I decided he could stay with the double handed backhand (I believed he could have mastered the one handed backhand, but I felt this would take longer for him, and as he was such a good athlete I thought "why not copy Djokovic and Serena" )
However he was already in the habit of NOT being in the right place, so every time he felt he was out of position he would revert to the old push backhand, which was a weak one hander. As a coaching item no-one masters a shot if they have an escape shot. Like "I will hit a double hander if I am in the right place, otherwise I will hit a single hander". So I brought in the rule…..no more one handed backhands.
Initially he was still jumping a lot on the backhand, because he was in the wrong place,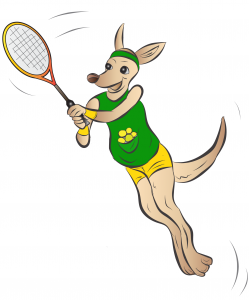 but gradually the new stroke got better and became more of a habit so that today it is quite a good shot, even against the best of the 11 and Under boys.
So over this time slot Rory's forehand was looking perfect at practice.
But he did not own the shot. And this particular problem really flared up when he was showing his improvement against kids he had previously lost to, and receiving many short balls on the forehand. For a few times Rory tried to drive the ball, but found too many were going out. His response to this was to dropshot everyone of these balls. His opponents at this stage were good players. They woke up quickly, got to every ball and hit winners. Worse still, Rory could not see by doing this he was reminding himself of his old safe, underspin forehand. So as the match got tighter and tighter Rory reverted to his old safe forehand (more and more push, more and more underspin).
Rory of course lost those matches.
So it was back to the drawing board. On the short ball we had to work on Rory being more exact, more deliberate but in the mean time improving the actual technique ( exactly where Rory had to position himself; exactly where Rory was to aim the ball, height over net, speed of ball).
At the same time Rory had to change his attitude.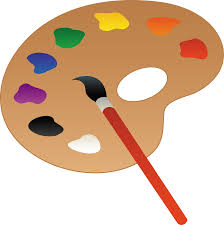 Attitudes are the mind's paint brush
Initially all Rory wanted to practice was the perfect swing and hit hard and hit a winner.
Being number 1 in the world Beach Bat player does not make a tennis champion.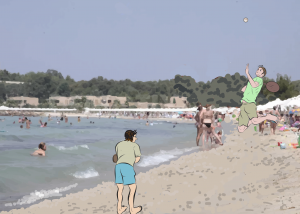 A champion beach bat player. Notice, no lines, no net.
Unfortunately the championship progression does not work that way. One has to stay in balance with all segments of the stroke as one improves. Hitting hard and hitting winners are the last two things to learn, and Rory still has many other items to learn and work on.
Rory did do good work on these items, with the result he won the tournament in Innisfail. His opponents were good players. They know the game. They will find your weakness and punish you, if a weakness is there. In the past they beat Rory because of those weaknesses.   He has now improved enough so that he can punish the other player's weaknesses.
Rory's results were:
15 March 2015,   JDS Orange Ball Mareeba……….winner
29 March 2015, JDS Orange Ball Cairns………….winner
June 2015, PDTC   Div 3 Boys singles…………runner up
24 April 2016, JDS teams at Woree C grade….runner up
9 May 2016, PDTC Div 1 Doubles……runner up
7 Aug 2016, JDS Innisfail   11U Boys…….winner
Rory has done amazingly well. He has made great progress and worked hard.
The journey is not over though. The journey continues.
Things he still needs to work on are:
Improving his volleys so that he has much more placement, and then he can learn to punch the volley.
Mastering placing the spin second serve into the backhand corner.
Improving his smash. He has to learn to track the ball better, get into the correct place and create the perfect point of contact.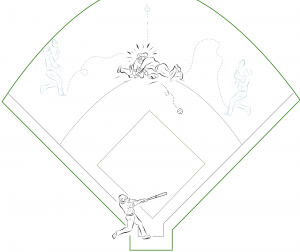 The above pic shows two baseball outfielders tracking the ball.
Making small improvements to his first serve. In particular control of his left arm/hand….resulting in a perfect ball toss location.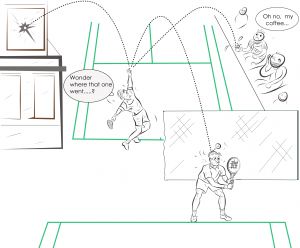 Getting up fully to the short ball, and then being able to punish the approach shot.
Learning to get out of no man's land. He must go to home base 1 or home base 2 immediately after hitting the ball.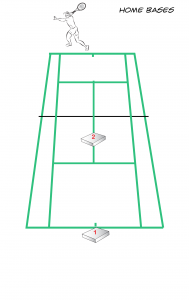 Below is a pic of a young baseball player quickly getting to safety on one of the bases. In tennis of course there are only two bases; one near the net and one near the baseline, both in the centre of the court (for singles).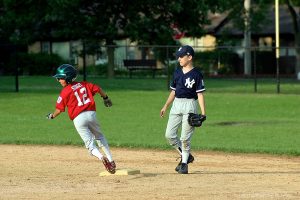 My dream is that Rory works just as hard and makes the same amount of improvement over the next few years.
Good luck.
Alan Lane.