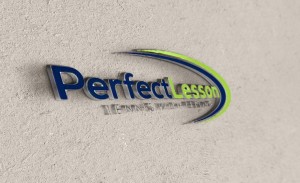 Flynn Crema
Title:      Tennis: The body shape and consequent tennis tactics
Flynn recently played in a JDS tournament at Port Douglas. For himself he played very well going all the way to the final (where he lost). He probably played the best tennis of his life.
However whilst watching his matches I automatically thought that if he were to improve a couple of items in his tennis game by 15%, he would not only play much better but would have given himself a very good chance to win the last match, the final.
But first we do need to look at the connection between body shape and tactics. Tennis is wonderful in many ways, but one item in particular is important for our discussion….and that is that tennis compliments the David and Goliath story. The smaller person can win, by using skill and guile (tactics). So we have had many classic finals in the past between the big hitter and the scrambler, or the tall player with the booming serve versus the smaller player with the great return of serve.
Now it is time to look at Flynn's body shape and apply that to what would be his best tactics. Flynn could be described as a strong/heavy build. He also is not as quick and light on his feet as some other players. One cannot change completely the body we were given, but my belief is this. Any strengths (positives)…..improve them to the master level. Any weaknesses…. Improve them, not to the master level, but to a respectable level whereby your opponent cannot easily win the match.
So Flynn's major weakness is his footwork. Under the banner of work on every weakness, Flynn would do specific footwork drills (like jumping rope). But under the banner of which tactics should I employ to protect my weakness ?, the first thought would be to try to make each point as short as possible. We do not want him playing a three set singles match on the slow clay courts of Paris where it is almost impossible to avoid many long rallies. But how do we do this in a sensible manner and keep within the percentage rules of tennis ?
Well the first step is to absolutely master the technique on the serve. Flynn needs to have an immaculate serving action and technique like Pancho Gonzalez, Pete Sampras, Roger Federer, John Newcombe, Goran Isanisovich, Arthur Ashe, John Isner, Nicolas Mahut to name a few. All these players had a service action which was smooth, rhythmical, pleasant to the eye and apparently effortless as they could generate explosive power throughout the whole of a five set match. Some of these players were capable of hitting five aces in a row when down love-40.
Obviously the perfect serving game is 4 aces in a row. (Have you ever done that ?)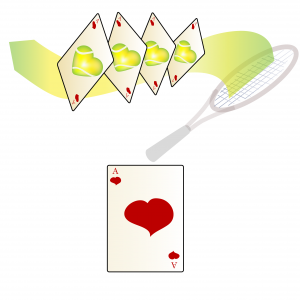 So Flynn needs to work really hard on mastering the service action. Then master the cannonball serve down the T; then master the first serve slice out wide to the forehand. Then finally the kick serve to the opponent's backhand.
If Flynn does master the serve….he will be hard to beat. Win every service game you cannot lose (ignoring current day tie-breakers).
Plus, trust me on this one, when you are serving perfectly you automatically take a lot of pressure off your own groundstokes and return of serve. You can afford to have a few poor games on returning games as you are still even in the match.
The sketch below shows the three major serves.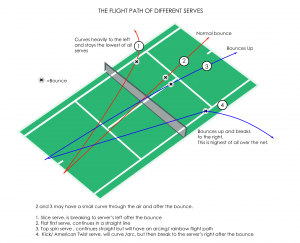 His technical improvement would be guided by the following sketches.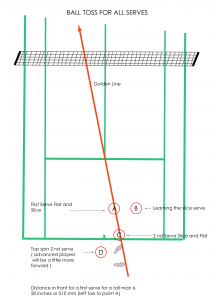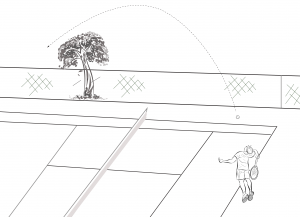 The above sketch shows the first learnings for the topspin second serve. It is what I call the optical illusion. Most players learning this serve for the first time have no concept of the true direction of thrust/motion and swing for the kicking second serve.
The next item for Flynn would be to work on his groundstrokes. This would be his greatest strength at the moment, but still last weekend he missed enough balls to give me a slap on the face. He can do better, so he needs to pay attention to the fine details. Like, has he got exactly into the perfect place before hitting ? A pre-requisite for him to improve his groundstrokes will be for him to improve his footwork and overall fitness. (More on that later).
His overall plan is to master the groundstokes.
An associated item is how he currently deals with a short ball. Remember , the master plan is to shorten the rally as soon as it is possible. Currently Flynn is making a half hearted attempt to get to the short ball and make an approach shot. The result is often a junk shot from him down the middle of the court and a retreat to the baseline. Flynn needs to be on the lookout for the short ball, then when it appears jump on it (get up to the ball fully and take the ball at the correct height), deliver a penetrating deep approach shot and immediately go to net. Otherwise he is simply prolonging the rally.
He could study some old film of John McEnroe on grass.
The last item of improvement would be his understanding of what it means to have good footwork. Flynn could study some old films of Agassi. Flynn needs to realize that a tennis player is taking a huge number of small steps in a normal tennis match. Yes there are also some large steps, but Flynn's improvement would come from getting into the habit of taking many small steps when needed. Two third's of the training for a champion boxer involves footwork; jumping rope and roadwork. If Flynn is to master his groundstrokes he will first have to master his footwork.
The sketch below shows the type of footwork tennis players need.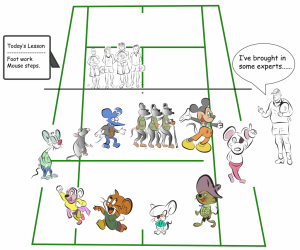 Summing Up:
Flynn must realize which tactics will best suit his personal style.
Flynn must master the serve (all three types)
Flynn must master the groundstrokes
Flynn must learn to attack correctly off the short ball (including going to net)
Flynn must improve his specific footwork
Flynn must improve his general fitness level.
Flynn has a natural talent in hitting the ball. He easily generates power.
If he works on his game (no stone unturned) and improves the above mentioned items…..he will be very hard to beat.
Serena Williams demonstrates every item I have mentioned. Flynn could copy her game.
(Pic of Serena ??)
Alan Lane.