Presentation Baseline Tennis Juniors
July 10 2016
At Innisfail TC
Tennis is a wonderful game.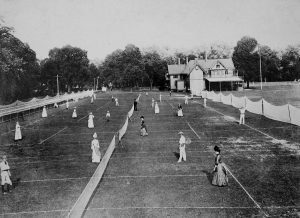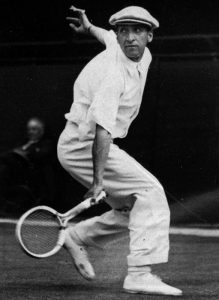 ………but so cleverly designed. There are two great things about tennis. The structure of the game is designed to challenge every section of your game, including your psyche. You can reach your peak….or you can make half hearted attempts, and then have regrets for the rest of your life.
The second wonderful thing about tennis is that any friend you make on the tennis court is a friend for life.
I certainly was challenged by this unique game and I was lucky to make many lifelong friends.
An example of this occurred when I wanted to have someone write a foreword for  my book on Tennis Psychology.   When I asked Allen Fox (now a fully trained psychologist) he readily accepted and our conversation slipped into memories and continued as though I had not seen him for one week. In reality it was over fifty years since I last saw him in person.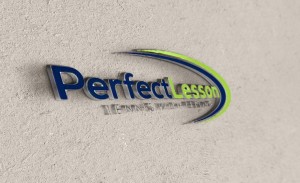 Welcome. Thanks for coming along today.
You will notice I have put up the pic…..Perfect Lesson.
This is to show you the two parts of a lesson.
Yes the coach is supposed to deliver the Perfect Lesson.
But you also play a part. You have to be the Perfect Pupil. Have you been that in the last 12 months ?
If not….then there is something wrong with your attitude…..and your mind controls your attitude.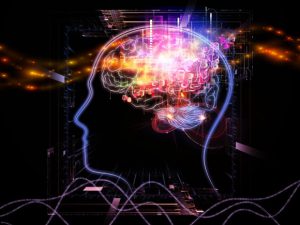 Today we want to go more deeply into what makes a champion tennis player and how each of you can make your maximum improvement.
It starts with realizing that there are four major components to the game of tennis.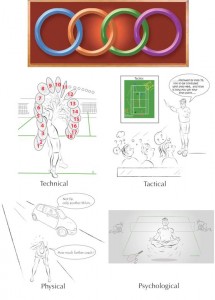 You need to make sure that you have not overlooked any weaknesses in your game. Thus your attitude needs to be perfect to cover the four segments.
The first area is technique. You need to master that area, so you had better make sure that your concentration is perfected. The easiest shot to learn in tennis is the Volley. The most difficult is the topspin/kicking second serve. Perseverance will be needed here.
The second area is Tactics. Have you studied the tactical game fully ? Do you even think about it ? Learning fully about Tactics takes time and much match play. Are you mentally ready to add this item to your homework list ?
The third area is Physical. This includes endurance but also the sub-items like speed, quickness and flexibility. Are you fit enough ? Champions never lose matches because they are not fit enough. So be aware of your level of fitness and be prepared to work on any weak area. The correct attitude is needed here.
The fourth area is Psychology. You need to look at yourself (your mind) and be aware of what you are thinking. You need to think about your thinking ? And you must be prepared to make changes. You can change your way of thinking.
In total you are expected to study these four areas, but then make the next move. What have you learnt about your game ? What changes are you willing to make ?
Today our main item is Psychology. We have these items. Your thoughts, your beliefs and your emotions. They are part of your Ego. Your Ego can get you into trouble. Your fears, your anxieties, your negative thoughts will kick in when you least expect it……mainly due to you developing these items as habits. Many of you will be thinking " But this is the way I am….that is unchangeable". You are wrong in that belief. (You see, there is a belief already which as it turns out is not correct)
Much of this (your Ego) has been learnt by you without you even realizing it. One half of your behaviour has been learnt mostly from your parents. That includes the good and the bad. If Mum goes crazy six times a day, you will tend to copy that behaviour. If Dad criticises every mistake you make, you will develop negative emotions over that item.
Regarding pure tennis you will need to learn about the following areas:
Your attitude during practice sessions and lessons.
Your awareness of your emotional status pre match.
Your awareness of your emotional control during a match
Your attitude to results of a match, especially a match you have lost
Attitude means…….how hungry are you for this maximum improvement ?
Now all of you have done a really good job with your tennis. You have obviously worked hard and made much improvement. Some of you are at the top of your group.
So well done. That is the good news. But now the warning bell goes off. Besides the players in this area, we have all the players in Brisbane…and all the other states of Australia. AND many other countries in the world. So there will be many players you will need to climb past. Can you do it ? Of course you can. I did it and made inside the top 50. If I can do it, so can you. I was a late improver. I did not make Australian junior ranking until I was 18. So if you are not top of your group right now, no problems. What counts is what you will do with your game over the next 12 months. How badly do you want it ?
Psychology of Tennis (the mental side of tennis). If you master this area of tennis you will make your maximum improvement……….this I will guarantee you.
Lets talk about one aspect of your emotions. Choking.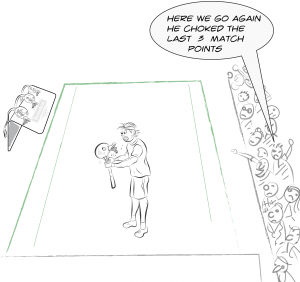 Do any of you recognise this scene ? Have you been there yourself ?
I also want you to learn from my mistakes ! And yes, I made plenty of them.
My tennis career , just like many, could be described as sweet and sour.
The sweet section for me meant I had what we could call a pretty good result. I was ranked 10th in Australia (this was in a time when Australia was ruling the world of tennis….the top 4 players from Australia were ranked 1,2,4,6 in the world). I played virtually every tournament on the World Circuit. I reached the last 16 (4th round) in three of the Grand Slams; Australian, French and US.
BUT….I could have done better. My losses in the round of 16 of the Grand Slams were heart breakers and huge turning points. All close matches. In the Australian I was down 2-5 in the fifth, fought back to make it 5 all, (lightning strikes fast) but then lost 5-7 in the fifth. In the US I lost the first two sets, then fought back to win the next two sets, got to 3 all, then dropped serve (lightning strikes fast) and lost that match in five sets. In the French I went ahead one set, and 5-4 and my serve….then played one bad game (lightning strikes fast) and ended up losing the match. I should have been up 2 sets to nil.
In the US Open I was one point away from winning a Grand Slam…this time Mixed Doubles. Again I say..ONE POINT (lightning strikes fast). I played a poor shot on that one crucial opportunity.
Summing up: yes I did do quite good….BUT I could have done better !! All of those matches were winnable, and what a difference it would have made to my career.
And please remember one of my favourite phrases…….lightning strikes fast. It is a very important item for you juniors to fully understand. You need to study it in other player's matches, and possibly your own matches. Then you need to be on the lookout for it to happen to you. And then nip it in the bud before it costs you an important match.
And so I am here today to try to help you make sure you do not make the same mistakes I made.
One of the great football coaches in the world said "you have to earn the right to win". Think about it. "You have to earn the right to win". You are great athletes with plenty of talent…..but you have to do the work, you have to earn your right to get into those higher levels of tournament.
So moving on. I need you to realize that as from today your greatest tool is……your mind. For your learning today I think it best that you distinguish between the brain and the mind. They are not the same. Your brain is limited to your body functions and senses. Your mind is unlimited…..it can go into other fields. Your mind will make you or break you. So today I need you to learn more about your mind. Many of our thoughts have been learnt and then become habit and worse still become unconscious reactions. You need to think about what you are thinking. And trust me, you can change your habitual thought patterns.
The final summary is that to be an elite tennis player you need to make sure that you are not reacting to any negative emotion.
The most common negative emotion is fear of losing.
Further summing up:
You are to get your negative emotions under control.
Nervousness. Angry Distracted Choking Front runner (spitting the dummy) Lack of concentration, over confident etc
You need to be mindful of what you are thinking; what your emotions are.
The magic formula is:
Learn about psychology and thoughts and emotions
Then be aware of any negative actions/thought/emotions on your part
Then be on the lookout for the negative items next happening (nip them in the bud)
Then make the above line ….habit
Then you are In the Zone.
Meditation will help you and train you to quickly get In the Zone.
You should meditate once a day, preferably twice a day.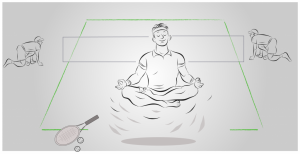 Talking about being In the Zone , a great example for us is our own player, Lleyton Hewitt. He is famous for making comebacks, often down two sets to love. He never gave up. But what was happening in his mind when he was way down and often being outplayed ? He showed courage and determination, but more importantly he was focused on the task in hand. What task ? Simply to play the next ball to his maximum ability. He did not have crazy thoughts about losing the match, or not getting the trophy, or what will people think or any of the other one hundred negative thoughts which are not In the Zone. He was able to stay focused on having his body ready to react to the next ball, play that ball and keep a clear mind so that he could recognize all tactical requirements for that match. He was so good at this that every opponent knew that their upcoming match against Lleyton was going to be really tough and that they would never get an easy match.
You need your mind to be that focused through your complete match.
I find it helpful to look back on my own matches. Some matches I have been In the Zone for the whole match. Others never In the Zone. Others, in and out of In the Zone. So remember what it felt like when you had that magic match, being In the Zone the whole time. Then compare it to your poor performances. What was your focus like ? Your emotional control ? Your thoughts ?
Obviously your task is to copy those magic matches, so always use them as a reference, as a guide for yourself.
So for you there are three major timeslots of psychology
1. Actual match play……what are your thoughts and emotions at different stages of the match ? eg nervous at the beginning ? cracking under pressure when the score is 3-4 , 15-30 ? choking when you are serving for the set ?
choking when you are playing the most important tournament of the year ? etc
The pic below charts Level of Performance against your Emotional State.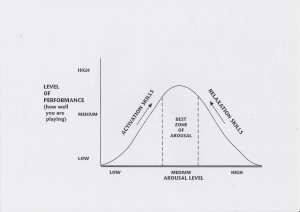 Sketch Emotion graph
Sk Pics/E Bk pics/E Bk Graph Diagrams/Emotional
What you can learn from your match play results……….are you sweeping under the carpet any gross errors you are making.? Like missing easy smashes. Or missing an easy put away forehand.
John Newcombe said "your best lessons come from your losses". Are you maximising your learning of your own game, each time you lose ?
The pic below shows a junior player in denial.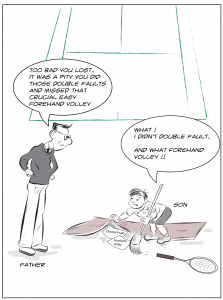 3. What are you really doing at practice ? Are you truly 100% focused on every hit at practice? Copy Nadal, Serena Williams, Federer, Djokovich, Maria Sharapova. Or are you really wasting your time ? Are you actually practicing your weaknesses ?
Summing up: Especially for match play, but also for practice, you need to be In the Zone or In the Now. For every point and for the duration of the match.
When you are In the Zone your body functions work their best, you will see the ball better, you will react earlier and your muscular structure will be free and flowing. The ball will seem to slow down, and be so large you cannot miss the next shot.
The pic below shows a lovely large watermelon travelling slowly. The player has plenty of time…..he will not miss this shot.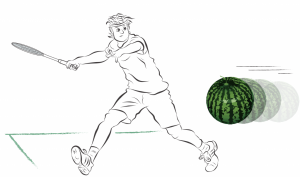 The pic below shows how little time there actually is to get onto the ball. Can you see that if your stomach is tight and your vision is slightly off (because the muscles in your eyes are tight), you will never make the reaction time of 0.56 seconds.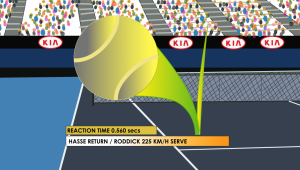 So how was your focus today in your warm up ??
How do you rate your performance ?
Remember, there are 100 kids of your age in China, probably practicing more times a week than you do and perhaps concentrating 100% on every hit at practice. Will the old you make the same improvement as those kids from other countries ?
So this leads to one of my favourite sayings………..All In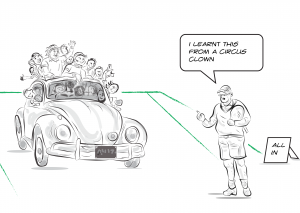 All In can indicate team sports, which in our case would be doubles OR a team match. So you would be of the faith that you will help and support your doubles partner as much as you possibly can. And you would have the faith that your partner will do the same to you. And that is the way it should be.
But All In has a more complicated meaning than that. It means that YOU are doing every single thing you can do to become the best you can ever become.
That means you leave no stone unturned in your search for perfection. Which at this current time means no stone unturned in your examination of your own weaknesses.
You will need to examine in minute detail your technique, your tactics, your physical package and your mental side.
Remember, leave no stone unturned !!
Today in particular we are focusing on the psychological section of tennis.
So our famous football coach decided that the only way to guarantee not missing anything was…..to make lists.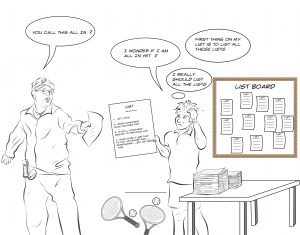 Lists also include records. Are you keeping records of all your matches ? With sub headings: Technique, Tactics, Emotional control.
Do you have a journal recording important things you have learnt from your lessons ? Are you recording your results from practice sessions and drills ? Like how many Cross-ct forehands can you hit into the deep quarter of the court ? How many second serves can you hit into the backhand corner of the service box ?
Below is a match stroke analysis chart which you should use every match.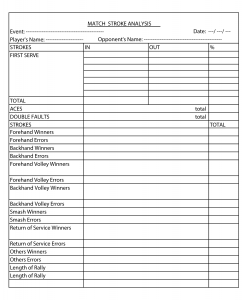 You should also be using an Emotional Status chart, again for every match.
And put into your Emotional Journal. See below.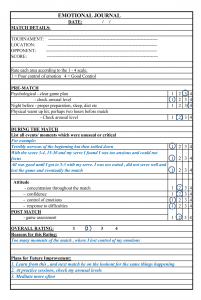 We should also quickly mention the role of the parent. It seems that most of the parents in this group are doing a pretty good job. I am a parent, and I have learnt that it is not an easy task (there are many traps). So to you juniors, should you feel a parent is putting unnecessary pressure on you, you have the right to say "Alan said I should be able to speak to you about this, because I feel…………..". Again, you juniors, if you feel it is too awkward to talk directly to your parents, then feel free to contact me and we can discuss it in private. I am on your side.
The pic below portrays Parent Behaviour / Child Outcomes. (Parents have a good read……and a self examination. Remember, every thing you do will have a reaction on your child).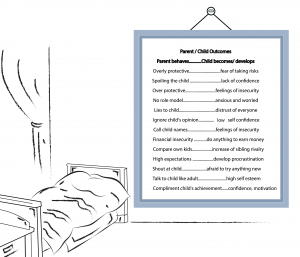 Regarding parents watching children play matches: for now the rule is "the child reigns supreme". If the child does not want you to watch…..the child is correct. If the child does not want you to come to practice sessions…..the child is correct.
(There is a list of progressions/stages the child needs to go through, to get to the Elite level, but more on that another time. For now the child has to eventually learn not to react to outside distractions………haha……In the Zone !! )
The pic below shows various Distractions. The child eventually has to learn to never be distracted.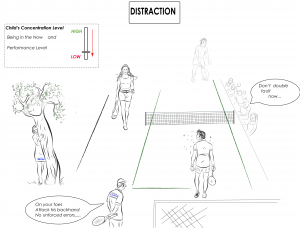 Summing Up:
Be aware of your thoughts.
Be aware of your emotions
Make these two items a habit.
Are you In the Zone ?
Who / What am I ?
Half the things I do you might just as well turn over to me,
And I will be able to do them quickly and correctly.
I am easily managed; you must merely be firm with me.
Show me exactly how you want something done and after a
Few lessons I will do it automatically
Take me, train me, be firm with me, and I will place the
World at your feet.
Be easy with me and I will destroy you.
Templates
Page entry for Match Stroke Analysis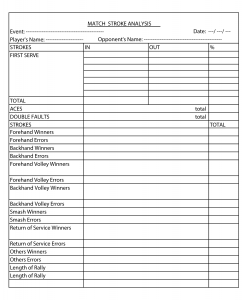 Page entry for Emotional Journal