Tactics at Club Level
Are you thinking at all when you play a match ?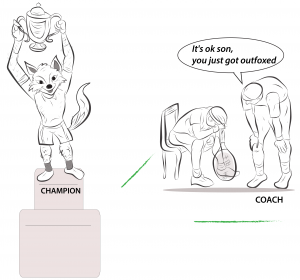 Outfoxed
So what do you know about tactics?
Do you know anything at all? And if your answer is no…..that is ok.
You probably are totally focused on your own game…..perhaps trying so hard to simply keep the ball in.
But perhaps it is time to start thinking about tactics.
The Port Douglas Tennis Club recently held their annual Junior Club Championships. There was a very interesting match in the final of the Junior Boys Singles.
The finalists were Levi Trewick and Daniel Plumbe.
Levi had the advantage with superior strokes and technique. Daniel had the advantage with mental strength and tactical knowledge.
Daniel was relatively new to the game and 15 months ago Daniel had poor technique but natural consistency.
Levi had a little more match play experience, but was inclined to tighten up and get down on himself as soon as he made a few errors. And eventually loose the plot completely.
This match was best of three sets (complete third set, no Super Tie Break). This is important as it played a big part in resolving the eventual winner.
Tennis matches, full length ones…..five sets, no tie breakers, long deuce are the ultimate true test. The player who follows the percentages will be rewarded. Just like the Casino. Play long enough…the house wins, ALWAYS !
In the picture below it shows the scores of a match played at Wimbledon with a match play time of 11 hours and 5 minutes. At the end of their first day of the match, play was suspended at 2 sets all because of poor light (natural daylight). Their second day was also suspended due to poor light with the score 59 games all in the fifth set. Their third day finally found a completion to the match with the fifth set score 70-68 games. The final set alone took 8 hours and 10 minutes. The total match took 183 games and 980 points.
Imagine what little difference there would have been in the two players, and what fine percentages would have given one player the edge.
(Need pic of score for longest match ever….no players)
The longest match
So the PDTC boys final followed a pattern which many coaches would have predicted.
The player with superior technique wins the first set.
But the real question is……can that player maintain that high level of hitting for two complete sets ? AND does that technique have a subtle flaw ? Like what happens if you make that player hit 200 backhands ? Or 200 smashes ?
So Levi won the first set and looked like it would be a straight set victory. But no, Daniel was not going to go away, he was not going to give up. I think Daniel copied Lleyton Hewitt.
There will be no easy match !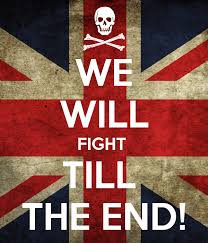 Never give up
Levi kept attacking, Daniel kept hanging in there and the score went to a tie breaker in the second set. (First to seven points). Levi then led 6-2 (four match points). As each point was lost by Levi the spectators could feel the tension mounting. The tension was also mounting in Levi's arm !
As expected the tension got too much for Levi (more unforced errors) and Daniel won the second set, saving four match points.
The start of a final set is always critical. Levi was by now suffering from the loss of all those match points and went down early in the third set. To his credit he was able to get himself together and claw his way back into the match. He finally won the third set.
But this story is about Daniel. How did he manage to come so close to winning the match with inferior technique ?
It was because he employed winning tactics !
As Levi tightened up Levi got less first serves in and all his serves lost power and depth. Daniel took advantage of this by charging the net on every point on Levi's second serve (weaker and short). Daniel won at least 90% of the points under this tactic.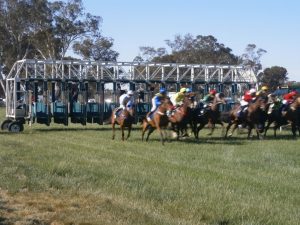 The Charge
Tennis Pics/Avoca/2015/Race Day/….540
On top of that, every time Levi came to net, Daniel………lobbed.
He lobbed extremely well (great depth many times)……but the important point was that by this time Levi had lost confidence and was not game enough to go for the winner. So Levi either played the smash safe or made an error. And of course this fit in perfectly with Daniel's plan !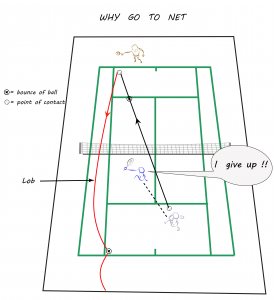 The value of lobbing well.
Levi was confused and not accustomed to players rushing the net on his second serve, so he became rattled and made numerous unforced errors. He made the fatal error of trying to hit winners (with most balls going into the net), instead of employing the tactics make your opponent hit one more ball. A tactic which Lleyton Hewitt was famous for !!
The opposite took place when Levi attacked. He was forced to take high balls and supposedly punish them and hit outright winners. But of course in tightening up he was not game enough to go for a winner and most times played a nothing ball back to Daniel , who is very comfortable with that game.
Summing up: Daniel played Levi on his weaknesses, using his own strengths.
The ideal match for any player is to have your strengths against their weakness.
The worst scenario is to have your weakness against your opponent's strength.
Daniel was able to apply these tactics perfectly. It almost gave him victory !!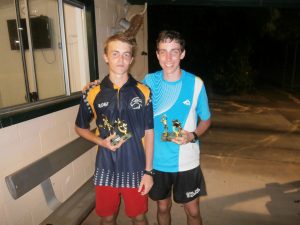 Levi on the left, Daniel on the right.
Alan Lane.