The Battle of the Sexes
Who are the Better Tennis Players ?
 Females or Males ?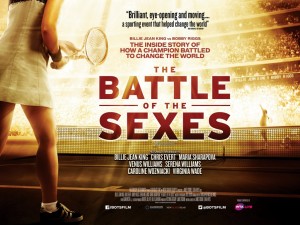 This subject of course has been around for a long time, and may go on forever. Which sex are the better players ? Where shall I start ?   I guess we should go back to the first official match.
This was the famous Mother's Day match between Margaret Court (Australia) and Bobby Riggs (USA) on national television in the USA. Riggs at 55 years of age won in straight sets (best of three) with very smart tactics; using a huge variety of spin, tactics and shots Margaret was not accustomed to. Margaret was never allowed to get into the match. The result of this match of course was that many of the male tennis players in the world said   "I told you so !".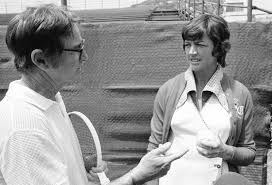 Two years later a rematch was held. This time it was between Billie Jean King and Bobby Riggs, and this time best of five sets. Billie Jean consulted her coach for advice (Dennis Van Der Meer) who advised Billie Jean that Bobby was great at hitting a shot and then running to the other side of the court for the next hit, but at his age was not good at first heading back to the center and then having to stop, turn around and run back in the other direction. Billie Jean employed these tactics successfully hitting behind Bobby on many occasions with the result Bobby was the one who court not control the outcome of the match. Billie Jean won in straight sets. Afterwards the men were left without a strong argument and the women quietly glowed with pleasure.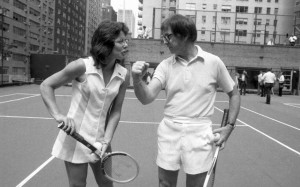 And the final result of those two matches was of course….a draw, as each side claimed their player was the better one.
But we need to look deeper. Obviously if we use the score as the only criteria then men are going to win. They do have more muscle mass and more power. They can jump higher and run faster…..check the Olympics times/distances. As a result of these Olympic performances I predict that the number 100 male player in the world would beat the number 1 female player (currently Serena Williams). I will use a story to show you why I think this way.
I was ranked inside the top fifty in the world. One year I was invited to play the South African tennis circuit played over approximately ten weeks, one city at a time. I lost in the final of the first tournament at Port Elizabeth in five sets to Cliff Drysdale (Sth Africa). Bob Hewitt from Australia was also playing this circuit.
After two weeks Tennis Australia told South Africa that Bob and I could not play any more as we were breaking the calendar date rules !! Tennis Sth Africa badly wanted Bob and I to continue to play so they negotiated with Tennis Australia and allowed us to play one more tournament. Eventually Tennis Australia threatened Tennis Sth Africa by saying if they continue to let Bob and myself play Tennis Australia would have Tennis South Africa thrown out of the Davis Cup competition. (Australia did have the power votes in those years and could force the issue if necessary).
So the result of this was that Bob and I were suspended ! It was too late to go back to Australia and Tennis Sth Africa had arranged everything for us…..so we had a lovely holiday for seven more weeks. It was summer and many beaches , swimming pools and parties. Bob at that time had a steady girlfriend from Sth Africa and ended up a few years later marrying her.
I had just started dating the number one player in the world, Maria Bueno from Brazil. So with the spare time I had I first spent more time with her and secondly I became her perfect practice partner. Men in the main are not interested in playing against women; remember that each man is trying to have his perfect practice session. But because I did not have to prepare for matches in the short term I was quite happy to help Maria with her tennis.
And now we come to the key part of the story. I used to beat Maria 6-1 or 6-0 each set, and we played several times a week, but I learnt many things from her. She did not hit many winners against me, but boy oh boy she made me work hard in the area of making me hit one more ball. On average I had to hit more balls per set against her than against one of the male players. So many of my good shots against the men would force an error, whereas Maria would get that ball back one more time, and nearly always with still some reasonable placement. So because of her female smaller physical build she was not able to generate as much power thus I could run down most of her shots, but her placement was so good that many times all I could do was scramble and keep the ball in play until I received a shot where I could use my superior power and beat her with sheer speed of the ball.
So who was the better player ?   That was my first big slap on the face as to how good female players are in certain areas of the game of tennis. I was better than her in physical attributes and power. She was better than I in pure hitting skill, translating into being better at consistency and placement.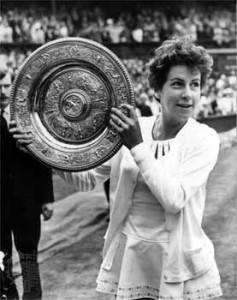 In the main I would say that many men (if not a majority) are not really interested in watching women's matches. I know when I was on the circuit most of the male players never took much interest in the women's matches. "What can they learn ? " they thought. If they did take notice of a women's match it was most likely to happen when a beautiful female player was in the match. And then they were not truly watching the match, they were admiring the physical body. Whereas the female players were equally interested in all matches, male and female. I must admit that at that stage of my life I did not receive much enjoyment out of watching the women's matches. I think most of us male players found their matches to be too boring. As it turned out,  how naïve we were.
Years later when I was coaching full time and living in New York I was lucky enough to watch Chris Evert play several matches. I did see her in her first US Open. She surprised everyone by getting to the semi final. This by the way was when Forest Hills had switched their centre courts to Har Tru (green clay)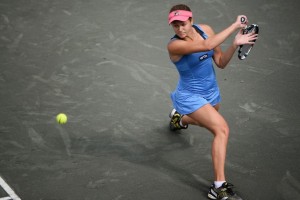 The first interesting item was that Chris had absolutely mastered the baseline game. Her groundstrokes had immaculate control, hardly any errors and with that wonderful control of the ball she could hit quite close to the lines and still not make any mistakes. As a result she eventually forced her opponent to hit a weaker ball. This usually meant a short ball. So Chris in her inexperienced way got to the ball, hit an average shot and then…..retreated to the baseline ! The result of this was that against weaker opponents she had many, many long rallies…..and won most of those points because overall she was more consistent than her opponents. However, once she played a superstar she paid the price for not being able to take the initiative when the time was right and attack the ball and perhaps win the point outright. By retreating she was simply prolonging the rally…..and against great players that is not going to be enough.
So the first lesson is this: Chris had mastered the pure strokes; she was consistent and did not make errors. No wonder she became number one in the world and held the record for the most consecutive wins on clay.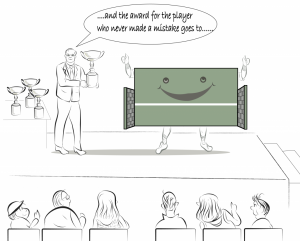 Just to talk about Chris a little more, she had not mastered net play at that stage, but she was a true champion and realized she had to work on her net game. She did that for several years and by the time she was 23 years old she was ranked number one in doubles !   At that stage she had become a great volleyer.
Chris had an unbelievable ability to work on one shot at a time. She was able to say to herself "ok, I need to work on my forehand down the line". So she could go out and practice that shot for four hours in a row. No wonder she almost never missed a regulation forehand. Most kids I know have a good attention span of about seven minutes….on shots they find reasonably easy. On shots they are having difficulty with the attention span is about two minutes. Imagine your child being able to practice a shot for four hours in a row !!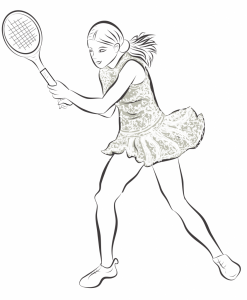 So that was the background story behind Chris Evert. She was brilliant and she absolutely mastered the groundstokes. Such precision and accuracy. Djokovic appears to have developed this precision. Is he as good as Chrissie ?   Hard to say.
I was living in New York at the time when an article similar to this one was written by Dennis Van Der Meer (yes, coach of Billie Jean King). Dennis was saying the same thing "who says women's tennis is boring to watch ? "   And he pointed out that Chris's forehand first looked to be "the same old boring shot", but when you examined it almost no two forehands from her were the same. In those days players hit "flattish" shots (which could be called the same), but for the experts like Chris, when you looked more carefully every ball was a little different. Some had topspin, some had a little bit of under slice, some had outside slice, some had inside slice, some were faster and some were slower. She was a master at giving a change up on many, many balls. And when she needed to thread the needle against a fabulous net attack…….she could do it.
So yes you have guessed, I think Chrissie was one of the greatest players of all time. Especially in skill level.
But there are others who belong amongst the greatest.
Margaret Court's record speaks for itself. Margaret was one of the fittest female players…perhaps up to her time ? She used to go to a gym in Melbourne where she was the only female. She worked hard to keep up with the men. In physicality she dominated the other female tennis players. No one holds the world record in Grand Slams won without being brilliant. Margaret is sitting on 24 Grand Slam titles. Federer is sitting on 17 Grand Slam titles. Are the best females better tennis players ?
Here is a recent pic of Margaret at the Australian Open. With her is a junior player who has a good chance of being club champion this year at Port Douglas Tennis Club. Levi Trewick has plenty of natural talent; perhaps he can absorb some magic and artistry from Margaret.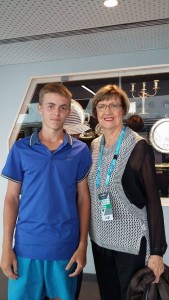 To mention others. Martina Navratilova was the overall natural athlete, a bit like Pete Sampras. Could run anywhere, leap anywhere, anyhow, any height and still come down in balance and recover like lightning. I remember seeing her the first time she came to the USA and played a small tournament near where I was living (Katonah, the home of the first circus !), so I was able to see her from a couple of meters away. She glided around the court and was like mercury in being able to go anywhere, get to any ball and recover.
And then we have people like Evonne Goolagong. Absolutely mercurial; like a puff of wind floating around the court. It was like she was playing tennis inspired by a higher self. Nothing was too difficult for her. Except the tendency to go walkabout. This side of her she had to pay attention to. When she was on she could do anything with effortless body motion.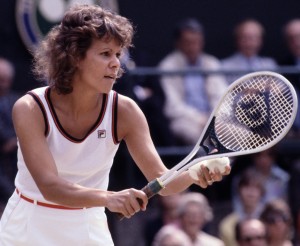 I first met Evonne when she came down for the South Australian Championships on grass. I was asked to hit with her and I was thinking "oh well I guess I have to hit with this sixteen year old kid". Little did I know what future she had ahead of her. Evonne and I have crossed paths many times over the years, mainly connected with coaching clinics. She has continued to promote the game of tennis and often comes to Port Douglas and Mossman giving clinics to indigenous children. Although I did get her to come to the small Julatten State School and give a talk to the kids. Perhaps the teachers enjoyed her talk more than the kids ? She came to my house and enjoyed the walk in the rainforest, although Roger her husband did collect a leech so he was not very happy about that.
A quick true story about Evonne. They asked her mother why did she spell Evonne's name the way she did. Her mother replied " I do not want a why-vonne (Yvonne) I want an eee-vonne, so we shall spell her name Evonne".
We have Althea Gibson, an Afro-American, winning the French, Wimbledon and the US. She had to break the all white barrier which was very prevalent in the US at that time.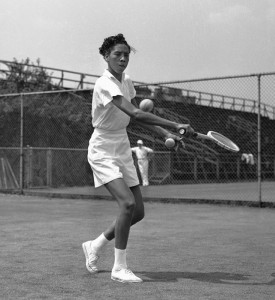 And of course one can never leave out Billie Jean King. You can never compare her with the physical skills of Margaret Court and Evonne Goolagong; but add grit and determination and great volleying skills and you have a formidable opponent.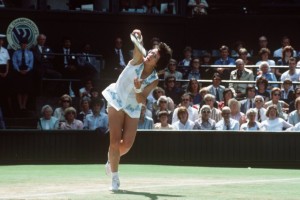 And Steffi Graff, running around so many backhands so her foot was in the backhand doubles line and still hitting a forehand. I remember watching her in a French Open final (which she won). In the previous year she had worked non stop on her new topspin backhand. In this match, the whole of the match, she hit one topspin backhand ! All other backhands were sliced. However her footwork was so good and her athletic ability so great that she could afford to put herself out of court position and still run down the next ball.
In the pic below she is seen winning the Coupe Suzanne Lenglen (The French Open…..Simple Dames).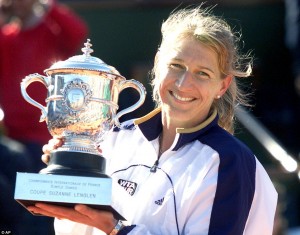 And of course there were many great female tennis players way back before the time of Steffi Graff. Susanne Lenglen, just to name one of them.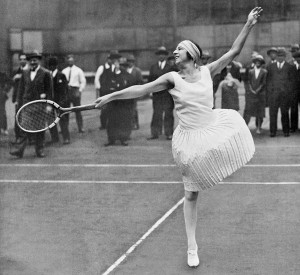 And lastly of course, without a doubt one of the all time greats Serena Williams. I am sure all of you would have seen several matches from Serena. Her power is awesome. She is one of the quickest players. She has the ability to take the ball early and finally her self belief, her mindset makes her a formidable opponent.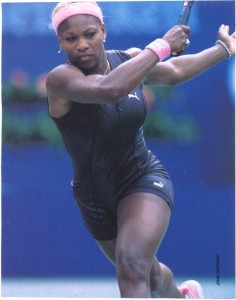 Summing Up
I have great, great respect for all the female players I have mentioned in this article. And many others….too many to name them all. To me they are always a pleasure to watch. And you probably have guessed it….yes, I think that female tennis players are more skillful than their male counterparts.
A pic to finish with. Teddy Tingling and his girls.                 Maria Bueno is on his left.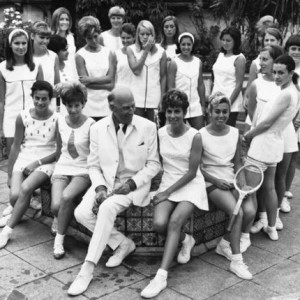 Alan Lane.